Most website simply have a scanned image of their menu on their website. In the sister article on the subject on Advice About Your Restaurant Menu on Your Website (Part 1), I talked about how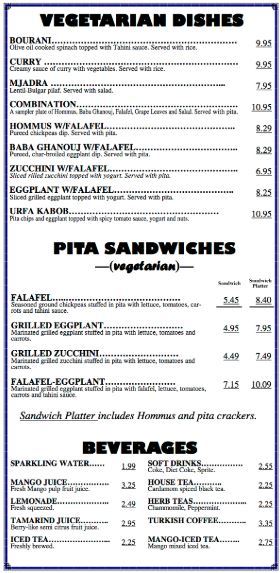 important and effective it is to have your menu all typed out on your website and include images of all your most important dishes.  In part 2 (this article), I'm going to explain why you should also have a simpler, downloadable version of your menu. Here's my advice on how to do it:
How to create a simple menu on your website.
Your downloadable menu is mainly going to be used by customers who already know you and your food. If you've taken my advice, you'll have a beautiful menu with detailed descriptions and photos on your site already. The downloadable version will be the one they print out and save the kitchen drawer. It should have everything on your menu listed but it should be plain, easy to read and in a format which is like an order form.
A good printable menu should be like an order form. It will help you
and

your customers.

By having your printable/downloadable menu like an order form, you're making it easy for your customers to order. They will be able to pass it around among family members and guests. In a work environment, it can easily be passed around the office so co-workers can build their order.

When your customers have the ability to fill out your order form they will be able to place their order in a quicker, more organized way, so you spend less time on the phone and the orders are more likely to be accurate. A printable menu should be simple, without a fancy font and without color or images. This makes it easy and cheap to print on their home or office printer.

With a simple menu, you can have a copy on your own computer and make changes at will. You can print them out yourself if needed, fax them, email them, update them at any time.

Get your menus into the hands, mailboxes, emails, and fax machines of businesses within 3 miles of your restaurant.