I love Google because Google helps me get new customers all the time, FREE. That's a good reason, right?!!!
I don't pay Google a penny for advertising, yet, my website and my business show up on page 1 of Google search results when people are looking for what my business sells-over 100 times per day on average.
This is why I advise my clients to be active with their Google My Business profile. Add images and posts weekly.
Why Do Photos Matter in Marketing My Business Online?
Photos are important in marketing communication for a lot of reasons, but the #1 reason (in my opinion) is because Google tells me so.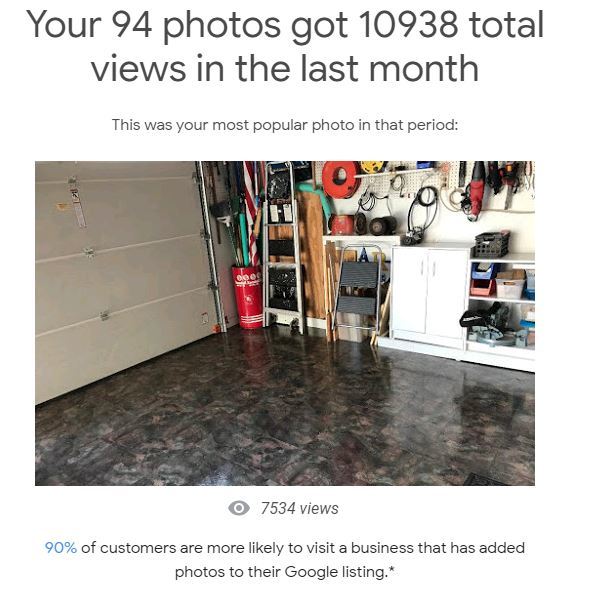 Google sent me this email through my wholesale company's email account. This tells me a lot about how following their recommendations is benefiting my business.
They told me adding more images to our Google My Business profile will help my business and my products show up in more searches. So, we started doing it. As you can see, nearly 11,000 people saw the images we have posted on our profile.
What's significant here is the fact that people who have come across these photos wherein the act of searching for something they probably had the intention of purchasing, either now or in the near future. That's powerful!
Add More Photos on Your Website to Climb Higher in Search Results
Photos and all images play an important role on your website.
You know the old saying, "A picture is worth 1000 words." Images stand out so you simply can't miss them. If the picture is interesting enough and compelling enough, people will read the text around or below the image. Hopefully, the text information is valuable and your reader continues to read on.
The longer your website visitor stays on your page, the more likely Google will determine the content on the page is good information, worthy of showing to more people. This is how your page rises in search results.
Optimizing Images for Better SEO Results
We can go even deeper into optimizing our website for search results by optimizing the images we use on our websites. This is an important material but we'll leave it for another post called How to Optimize Images for Search Engine Optimization.