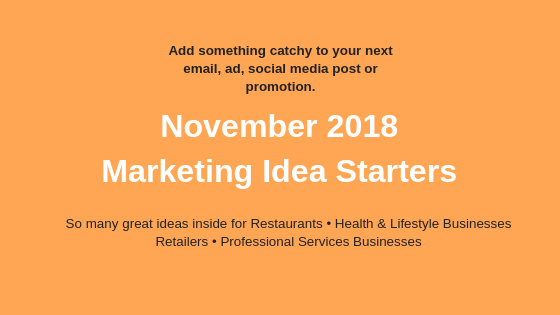 Keep your marketing fresh and interesting. Find topics here to perk up your website, your next outbound email or social media post.
November  2018 Marketing Ideas Calendar
Monthly Holidays
Adopt a Senior Pet Month
Aviation History Month
Banana Pudding Lovers Month
Diabetic Eye Disease Month
Epilepsy Awareness Month
Family Stories Month
Gluten-Free Diet Awareness Month
Historic Bridge Awareness Month
International Drum (Percussion) Month
Lung Cancer Awareness Month
Movember
Military Family Appreciation Month
National Adoption Month
National Alzheimer's Disease Month
National COPD Month
National Diabetes Month
National Family Caregivers Month
National Fun with Fondue Month
National Georgia Pecan Month
National Gratitude Month
National Home Care and Hospice Month
National Inspirational Role Models Month
National Long-term Care Awareness Month
National Family Literacy Month
National Novel Writing Month
National Peanut Butter Lovers Month
National Pepper Month
National Pomegranate Month
National Raisin Bread Month
National Roasting Month
National Scholarship Month
Pancreatic Cancer Awareness Month
Prematurity Awareness Month
PTA Healthy Lifestyles Month
Spinach and Squash Month
Sweet Potato Awareness Month
NoSHAVEmber (U.S. – Beard Month or Movember; Australia – Moustache Month)
Vegan Month
Worldwide Bereaved Siblings Month
Birthdays
11/6    Sally Field
11/7    Marie Curie
11/14  Prince Charles
11/20  Joe Biden
11/20  Robert F. Kennedy
11/22  Billie Jean King
11/30  Winston Churchill
11/30  Mark Twain
Weekly Holidays
Nov 4 – 10
National Animal Shelter Appreciation Week
Nov 12 – 19
World Kindness Week
Dear Santa Letter Week
International Fraud Awareness Week
National Nurse Practitioner Week
National Hunger and Homeless Awareness Week
American Education Week
Nov 17-23
National Farm-City Week
Nov 20-24
Better Conversation Week
National Game and Puzzle Week
Nov 21 – 25
National Deal Week
Daily Holidays
11/1/2018            World Vegan Day / National Men Make Dinner Day (No BBQ Allowed)
11/2/2018            National Deviled Egg Day
11/3/2018            National Housewife's Day
11/4/2018            Daylight Saving Time Ends – First Sunday in November
11/5/2018            National Love Your Red Hair Day
11/6/2018            National Nachos Day / Saxophone Day / Election Day
11/7/2018            National Bittersweet Chocolate with Almonds Day
11/8/2018            National STEM/STEAM Day
11/9/2018            National Scrapple Day
11/10/2018         Marine Corps Birthday
11/11/2018         Veterans Day
11/12/2018         National Pizza with the Works Except Anchovies Day
11/13/2018         World Kindness Day
11/14/2018         National Pickle Day / National Educational Support Professionals Day
11/15/2018         Clean Out Your Refrigerator Day / America Recycles Day / Great American Smokeout
11/16/2018         National Fast Food Day
11/17/2018         National Take a Hike Day / National Adoption Day
11/18/2018         Mickey Mouse Birthday
11/19/2018         National Play Monopoly Day
11/20/2018         Universal Children's Day
11/21/2018         World Hello Day / National Stuffing Day / Tie One On Day
11/22/2018         Thanksgiving
11/23/2018         National Day of Listening / Black Friday / Buy Nothing Day
11/24/2018         Small Business Saturday
11/25/2018         Shopping Reminder Day
11/26/2018         Cyber Monday
11/27/2018         National Day of Giving
11/28/2018         National French Toast Day
11/29/2018         Electronic Greetings Day
11/30/2018         Stay Home Because You're Well Day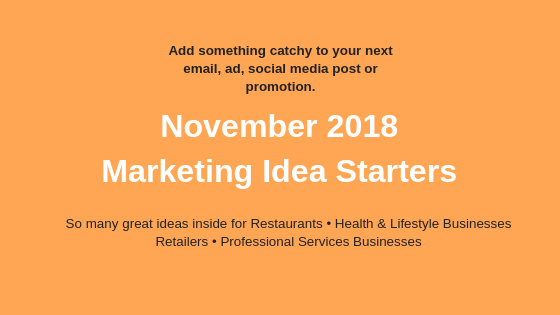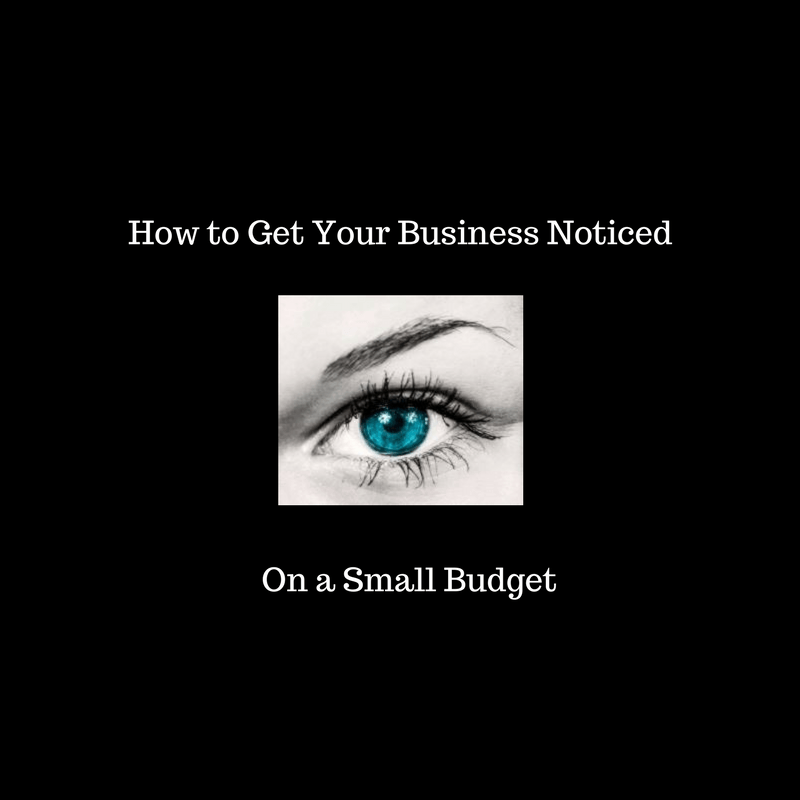 Getting your business noticed in a world of heavy competition is actually easier now than it has ever been in history. Everyone, whether you're a business owner, a professional, or just a regular citizen, we have the ability to create our own broadcasting channel.
One word says it all: CONTENT. Creating useful content your potential and existing customers will appreciate is it direct route to breaking through the noise, getting noticed, and creating an audience.
Information Marketing for Small Business
Did you ever think you would be in the information marketing business? Probably not. But read on!
Content comes in many forms.
My best suggestion is to look at your website as an information delivery system, not just an online ad where in inform and educate your potential customers.
—————————————–
You may be thinking, "How can I create content for my website? Why would anyone care about my content?" Here's my response: Whatever you make, do, or sell in your business, whatever services you provide, there are people out there looking for it online. First, they're looking for information about it. By providing information, you become visible (they land on your website). By providing helpful information, they begin to trust you. By being genuine and not delivering a sales commercial, they begin to trust you.
Create a web page or a blog post (like an article) about every product or service you make or sell. Describe it, in every detail. Describe the type of customer's who buy it or use it. Describe the features and benefits.
Not only will this help the customers to understand what you're doing and selling in your business, it'll also tell the search engines (this is a natural search engine optimization process) so your business will become more visible when someone is looking for a business like yours.
Need help brainstorming content ideas? Ask Andrew
—————————————-
The more you imitate real-world media, the more your content will be seen. Think about TV shows and radio shows. They are consistent. There are weekly shows and daily shows. They are aired consistently on a schedule.

In the Information Age, even small businesses can leverage information to make acquire new customers and make more sales. 
Getting noticed means creating useful material on a regular basis. Some businesses will do this. Some won't. The ones who do will benefit.
Aside from written content, I also recommend video. Video is as simple as looking into your webcam and talking. There's no need for high-tech equipment. You can always move up into better quality equipment later but cheap equipment today provides very acceptable quality.
I started creating demonstration videos for products I sell in my wholesale business in 2011. In that time, my videos have accumulated more than 1 million views. Considering some videos go viral and can get a million or more views in a week, 1 million plays in 7 years seems like nothing. BUT, these videos have resulted in helping me sell hundreds of thousands of dollars worth of product and driving tons of traffic to my website (Mazerwholesale.com). My point is, all content has the potential of getting you new customers and real sales…so it matters.
Your FREE Channel on YouTube
A YouTube channel is free. Uploading videos to YouTube is free. People love to consume information on video. YouTube is the second biggest search engine right behind Google. If your videos include information that people want to know about, your videos will be viewed. If you do a good job with your video then people will visit your website.
Your videos and your blog posts make terrific social media posts. Now you have a blog post with a corresponding video and then you use social media to syndicate that content. The best time to start blogging and creating videos was about 15 years ago. The second best time is right now. There will never be less competition than there is right now. My best suggestion and what I do every just about every day is write down ideas for new content.
Every time I read something in a book or an article or listen to it a podcast that I think is share worthy, I write it in my notebook for later consideration to share with my audience. It's as simple as that. You don't have to have 100% unique thoughts or ideas.
Be real, be yourself, and deliver information you would want to have delivered to you. Be valuable and people will pay attention. This is how you get noticed in a world of competition. This is how you become a thought leader. This is how you get to be known, liked, and trusted in the marketplace.
You will of course need to make your content interesting and useful. Written, audio or video content is not about making a commercial message for your business, but rather it's about value. Providing good, useful information is the only content you ever want to post online.
Need help with content marketing plans and ideas? Let's talk. Start here. Ask Andrew.
If you liked this article and you want to get notified when new small business marketing and management articles are published, CLICK HERE.