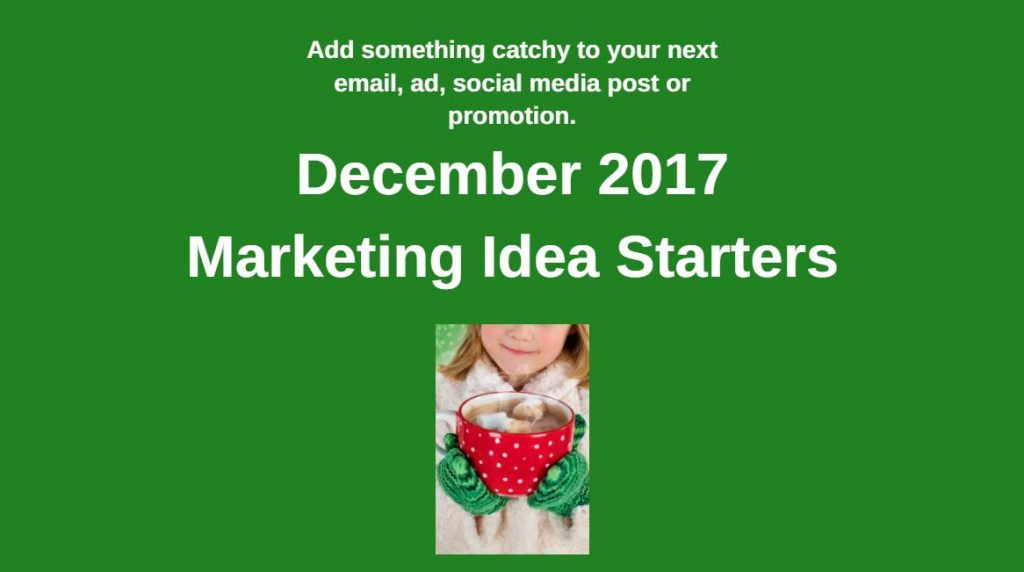 December Marketing Ideas Calendar
This resource is prepared each month FREE for subscribers. Serious topics, fun topics, unusual topics, and historical topics, all make for interesting and entertaining emails, promotions, social media post and blog posts. Want some help with putting these ideas to work for you? All you need to do is Ask Andrew, CLICK HERE.
Monthly Holidays 
AIDS Awareness Month
Bingo's Birthday Month
National Drunk and Drugged Driving (3D) Prevention Month
National Human Rights Month
National Tie Month
National Write a Business Plan Month
Operation Santa Paws (December 1-December 24)
Root Vegetables and Exotic Fruits Month
Safe Toys and Gifts Month
Tomato and Winter Squash Month
Universal Human Rights Month
Worldwide Food Service Safety Month
Have questions about marketing your business online? CLICK HERE.
Famous December Birthdays
Dec 5 – Walt Disney
Dec 6 – Satoru Iwata, Former President and CEO of Nintendo
Dec 10 – Bobby Flay, American Chef
Dec 12 – Frank Sinatra, Singer and Actor
Dec 15 – J. Paul Getty, Businessman
Dec 20 – Dick Wolf, Television Producer
Dec 25 – Justin Trudeau, Prime Minister of Canada
Dec 25 – Conrad Hilton, Hotelier
Dec 30 – LeBron James, NBA Star
Dec 31 – Donald Trump Jr.
December Weekly Holidays
Dec 3 – 9
National Handwashing Awareness Week, December 3-9
Recipe Greetings For The Holidays Week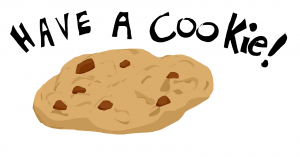 Dec 18 – 22
Cookie Exchange Week, December 18-22
Dec 17 – 23
Gluten-free Baking Week
Dec 12 – 20
Chanukah
Dec 26 – Jan 1
Kwanzaa
Have questions about marketing your business online? CLICK HERE.
December Daily Holidays
12/1/2017 World AIDS Day / Rosa Parks Day / National Pie Day
12/2/2017 International Day for the Abolition of Slavery / National Mutt Day
12/3/2017 International Day of Persons with Disabilities
12/4/2017 National Cookie Day
12/5/2017 Bathtub Party Day / International Volunteer Day for Economic and Social Development
12/6/2017 St. Nicholas Day
12/7/2017 National Pearl Harbor Remembrance Day
12/8/2017 National Brownie Day
12/9/2017 National Wreaths Across America Day
12/10/2017 Dewey Decimal System Day / Human Rights Day
12/11/2017 UNICEF Birthday
12/12/2017 Gingerbread House Day / Chanukah Begins
12/13/2017 National Cocoa Day
12/14/2017 National Bouillabaisse Day
12/15/2017 Bill of Rights Day / National Ugly Christmas Sweater Day
12/16/2017 National Chocolate-covered Anything Day / Free Shipping Day
12/17/2017 Wright Brothers Day
12/18/2017 Answer the Telephone Like Buddy the Elf Day
12/19/2017 National Oatmeal Muffin Day
12/20/2017 National Sangria Day
12/21/2017 Winter Solstice / Crossword Puzzle Day
12/22/2017 National Date Nut Bread Day
12/23/2017 Festivus
12/24/2017 Christmas Eve / National Eggnog Day
12/25/2017 Christmas
12/26/2017 Box Day (Canada) / National Candy Cane Day
12/27/2017 National Fruitcake Day
12/28/2017 Pledge of Allegiance Day
12/29/2017 Tick Tock Day
12/30/2017 Bacon Day
12/31/2017 New Year's Eve
Have questions about marketing your business online? CLICK HERE.