The Ultimate Guide to Converting Website Visitors Into Long-Term Customers.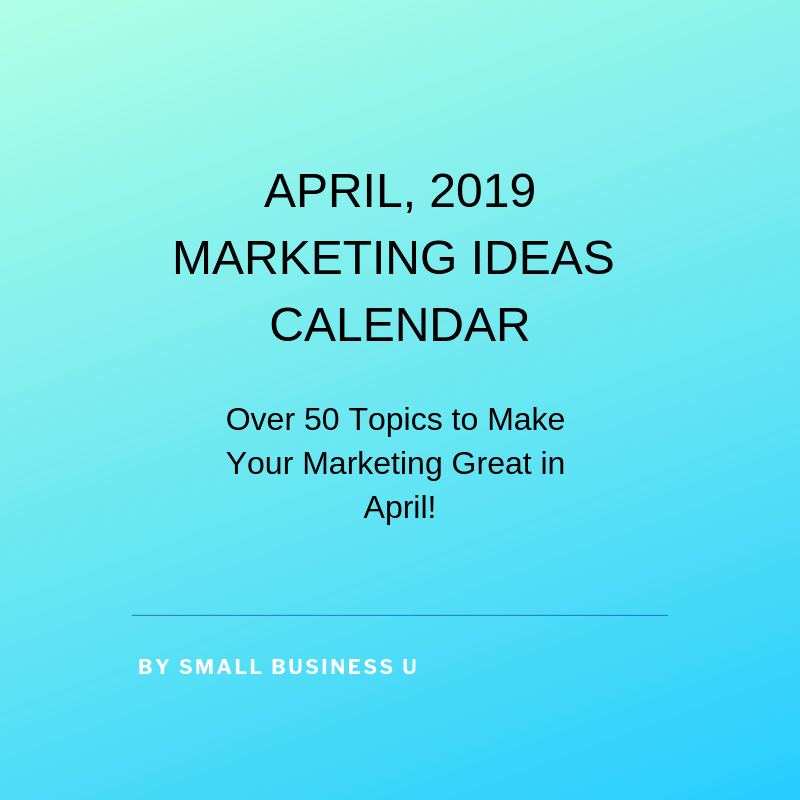 April 2019 Holidays
Use your imagination to put together fun and interesting marketing messages for your Social Media Posts, Emails, and In-Store Promotions
To receive an email every month with a Marketing Ideas Calendar like this one, SUBSCRIBE.
Monthly Holidays
English Language Month
National Month of Hope
National Canine Fitness Month
National Internship Awareness Month
Distracted Driving Awareness Month
National Child Abuse Awareness Month
National Donate Life Awareness Month
National Cannabis Awareness Month
Month of the Military Child
International Guitar Month
Keep America Beautiful Month
Lawn and Garden Month
National Autism Awareness Month
National Couple Appreciation Month
National Decorating Month
National Fresh Celery Month
National Garden Month
National Humor Month
National Jazz Appreciation Month
National Soft Pretzel Month
National Soy Foods Month
National Straw Hat Month
National Parkinson's Awareness Month
National Poetry Month
National Pecan Month
National Volunteer Month
National Welding Month
Occupational Therapy Month
Records and Information Management Month
Sexual Assault Awareness Month
Stress Awareness Month
National Safe Digging Month
To receive an email every month with a Marketing Ideas Calendar like this one, SUBSCRIBE.
Who's Birthday is in April
4/3       Cat Cora, Iron Chef
4/19    Bryan Voltaggio, Chef and Competitor on Top Chef
4/28    Bobby Deen, Chef
Weekly Holidays
April 1 -7
National Window Safety Week
Paws International Pooper Scooper Week
April 7-13
National Library Week
National Student Employment Week
National Volunteers Week
April 14 – 20
Boys and Girls Club Week
Coin Week
April 21 – 28
Administrative Professionals Week
National Princess Week
Every Kid Healthy Week
To receive an email every month with a Marketing Ideas Calendar like this one, SUBSCRIBE.
April Daily Holidays
4/1/2019        National One Cent Day / April Fools Day
4/2/2019        National Peanut Butter and Jelly Day
4/3/2019        National Chocolate Mousse Day / National Walking Day
4/4/2019        National School Librarian Day / National Burrito Day
4/5/2019        National Deep Dish Pizza / National Caramel Day
4/6/2019        National Caramel Popcorn Day
4/7/2019        National Beer Day / National Coffee Cake Day
4/8/2019        National Empanada Day / National Zoo Lovers Day
4/9/2019        National Name Yourself Day
4/10/2019      National Siblings Day / National Cinnamon Crescent Day
4/11/2019      National Cheese Fondue Day
4/12/2019      National Grilled Cheese Sandwich Day / National Day of Silence
4/13/2019      National Make Lunch Count Day / National Scrabble Day
4/14/2019      National Pecan Day / National Dolphin Day
4/15/2019      National Tax Day
4/16/2019      National Wear Your Pajamas to Work Day / National Eggs Benedict Day
4/17/2019      National Ellis Island Family History Day
4/18/2019      National Animal Crackers Day / Get to Know Your Customers Day
4/19/2019      National Hanging Out Day / Good Friday
4/20/2019      National Cheddar Fries Day
4/21/2019      National Kindergarten Day / Easter
4/22/2019      National Earth Day / National Jelly Bean Day
4/23/2019      National Picnic Day
4/24/2019      National Administrative Professionals Day / National Pigs in a Blanket Day
4/25/2019      National Take Our Sons and Daughters to Work Day
4/26/2019      National Pretzel Day
4/27/2019      National Devil Dog Day
4/28/2019      National Superhero Day / National Blueberry Pie Day
4/29/2019      National Shrimp Scampi Day
4/30/2019      National Military Brats Day / National Adopt a Shelter Pet Day / National Oatmeal Cookie Day
———–
Marketing Ideas For Restaurants!
Do you own a restaurant? We send have a Restaurant-Specific Newsletter we send every month. To subscribe email me at Andrew@smallbusinessu.org.  Leave your name, restaurant name, and mailing address. 
4/2/2019        National Peanut Butter and Jelly Day
Create a special dessert that resembles a Peanut Butter and Jelly Sandwich
4/4/2019        National School Librarian Day / National Burrito Day
Create a special "burrito".  It does not have to be Mexican, add your own flavor profile.
4/7/2019        National Beer Day
If you have a bar, have a special price on beer.  Make an event of the day, by having Beer Tastings.
4/12/2019      National Grilled Cheese Sandwich Day / National Day of Silence
Add a new item to the menu. Make the grilled cheese special by adding meat or veggies.
4/15/2019      National Tax Day
Give a "tax break"!
4/24/2019      National Administrative Professionals Day
Give a discount for office party trays.
4/25/2019      National Take Our Sons and Daughters to Work Day
Bring your son or daughter to lunch and get a free kids meal.
4/26/2019      National Pretzel Day
Use pretzels to create a new item – Fried Chicken with Pretzel Breading
4/28/2019      National Superhero Day
Dress as your favorite superhero, get a free Dessert or App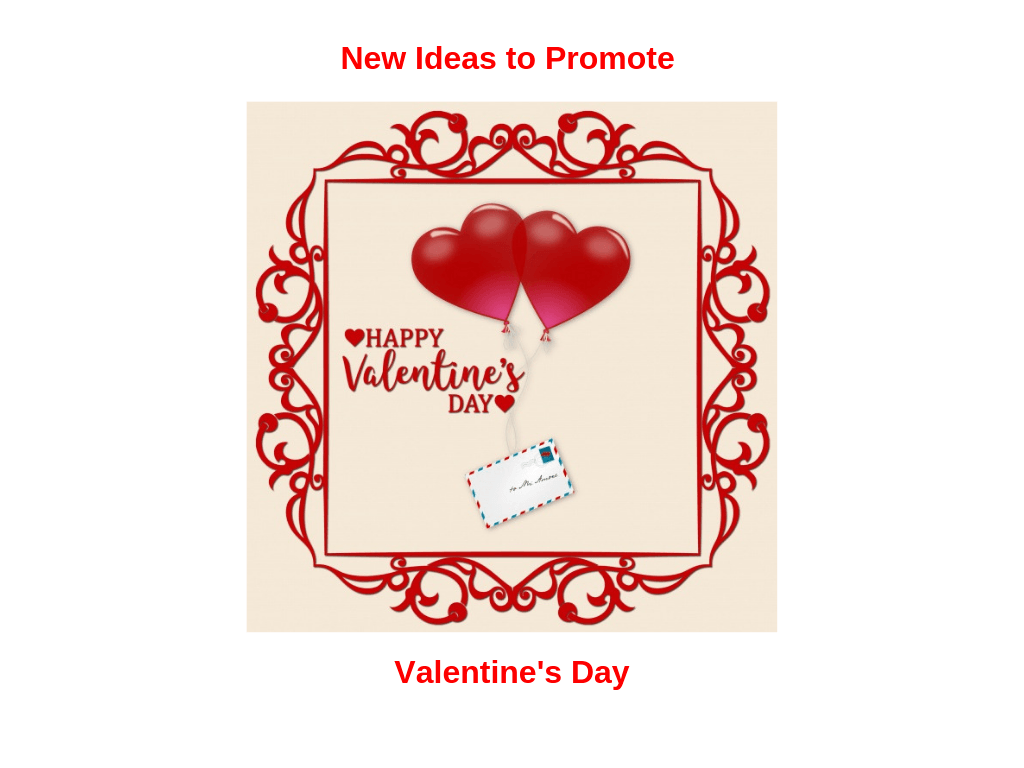 Valentine's Day can be a very big day for a restaurant. Want to learn how to make it even better? Here's a Valentine's Day marketing idea I invented a few years ago and found it very effective.
Forget About Valentine's Day!…It's Valentine's WEEK!
I recommend you have a special Valentine's Week special offer for several reasons:
If one person wants to celebrate Valentine's Day with sushi, but the other wants Italian, then someone will be a little disappointed. Some couples will compromise and go out to dinner twice to celebrate. If you make the Valentine's theme and menu available for the week, and if you let people know about it, this idea really works.
Some people have to work on Valentine's Day or have other commitments and can't go out to dinner that night. Making your special Valentine's celebration last all week is their perfect solution.
Your Valentine's Day special menu should be bigger, bolder, and more expensive (and more profitable) than a typical meal. Why not give this special selection a chance to sell more than on just one night?
Your Valentine's Day special menu may include something which is not normally on your menu. This is a chance to introduce something different that people may fall in love with (no pun intended). It may become a regular item or show up from time to time on your specials list.
Having a Week-Long Valentine's Day Celebration is unique. It's an event. You can market this as an event on Facebook, Yelp!, Eventbrite, and Craigslist…FREE! Events are a great way to reach more people, some who don't even know you yet. (You may want to read my previous post about Facebook events.)
SUBSCRIBE to get notified of every new blog post and my email Newsletter.
How to Let People Know About Your Valentine's Holiday Event
How do you let your customers know about your week-long celebration of "The Love" holiday? Email. Email them 2 weeks before the holiday, a week before, the day before, and the day after, and always remind them the end date so they still know they have a chance to celebrate with their sweetie.
As mentioned above, you should also use Facebook, Yelp, Eventbrite, and Craigslist to market this event. Why not? It's free.
Want some help with any of these ideas? Just send me an email: Andrew@smallbusinessu.org. SUBSCRIBE to get notified of every new blog post and my email Newsletter.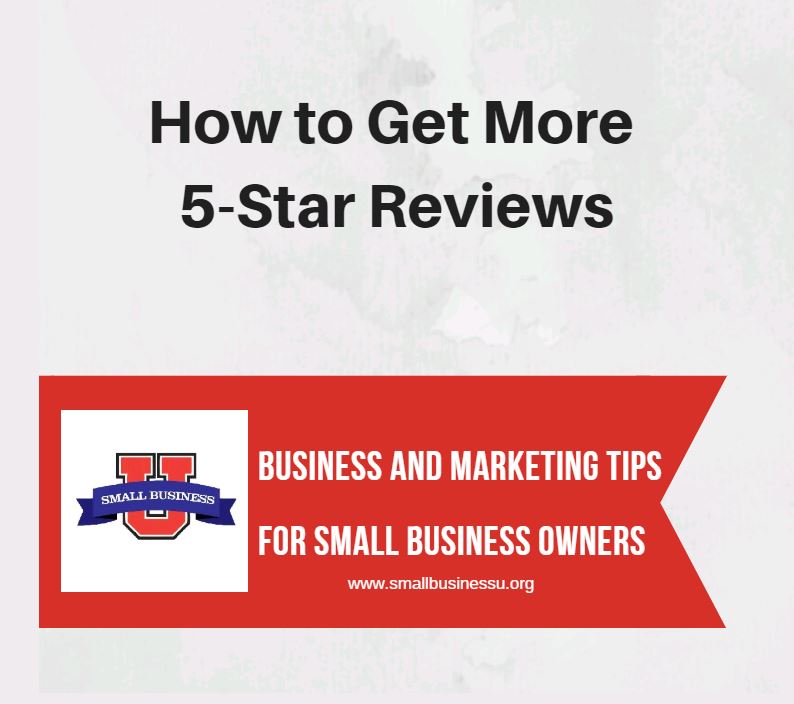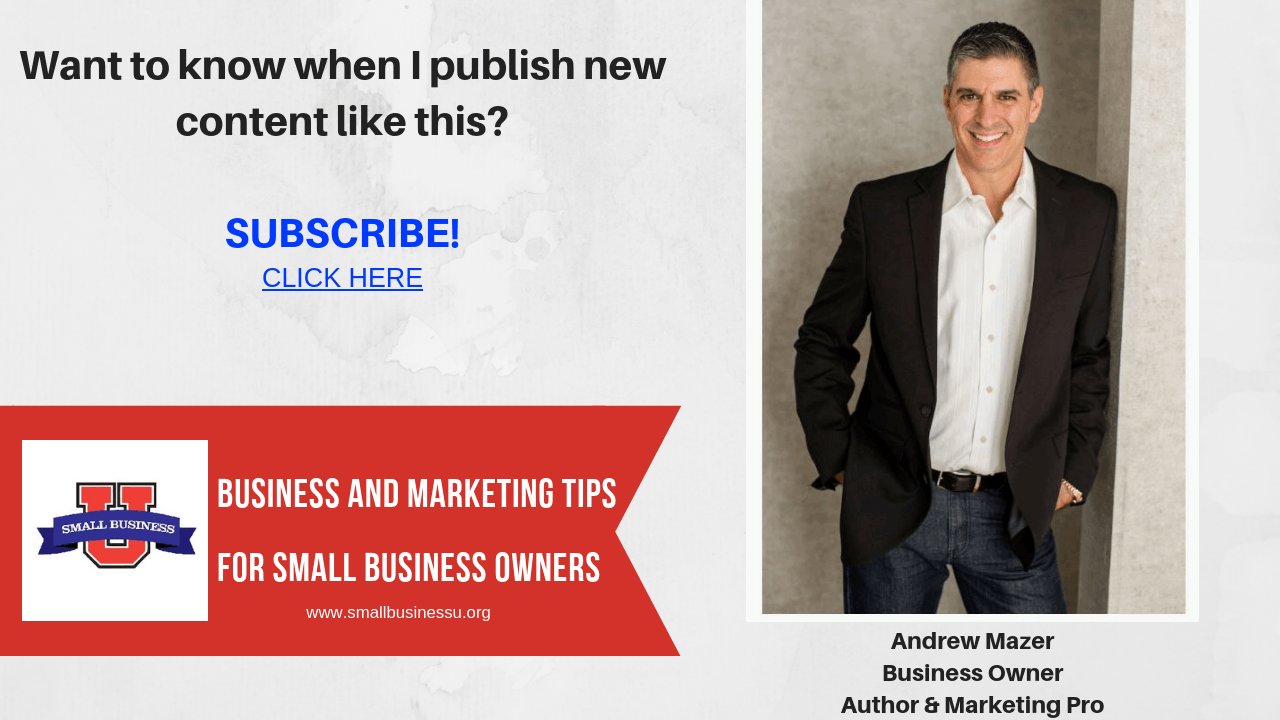 In this post, I'm going to show you a smart way to get more 5-Star Reviews. Getting more positive reviews is a critical marketing component your independently-owned restaurant (or whatever business you're in). Want to make ALL your advertising and marketing work better and pay a bigger return on investment? Read this post. (Video Posted Below)
More Positive Reviews Helps Your Ads Draw More Customers
More positive reviews will make your ads pull in more customers. Do you advertise?
Every time you spend money on advertising, many of the people who see your ad will check out your reputation. They'll go to sites like Yelp, Google, Trip Advisor, and Facebook to find out what people are saying about you.
The technique recommended in this article will help you get more positive reviews while also helping you build customer loyalty.
Who Are The Best Customers to Ask for a Review?
The best customers to ask for a review are the ones who join your "Specials & Coupons" email newsletter. How do you get people to sign up for your "Specials and Coupons" newsletter?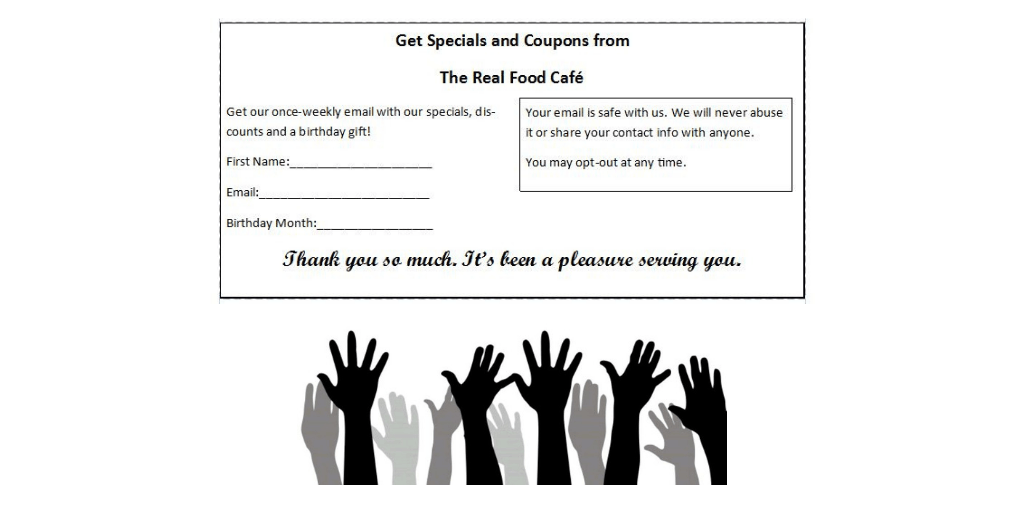 Make sure every adult patron of your restaurant receives the opportunity to fill out a form like this one. You can leave a small stack of them in a tray or a business card holder in the table, or you can have your server set some on the table with a pen toward the end of the meal. You may want to have the cashier bring up the subject if your customers pay at the cash register. Th point is: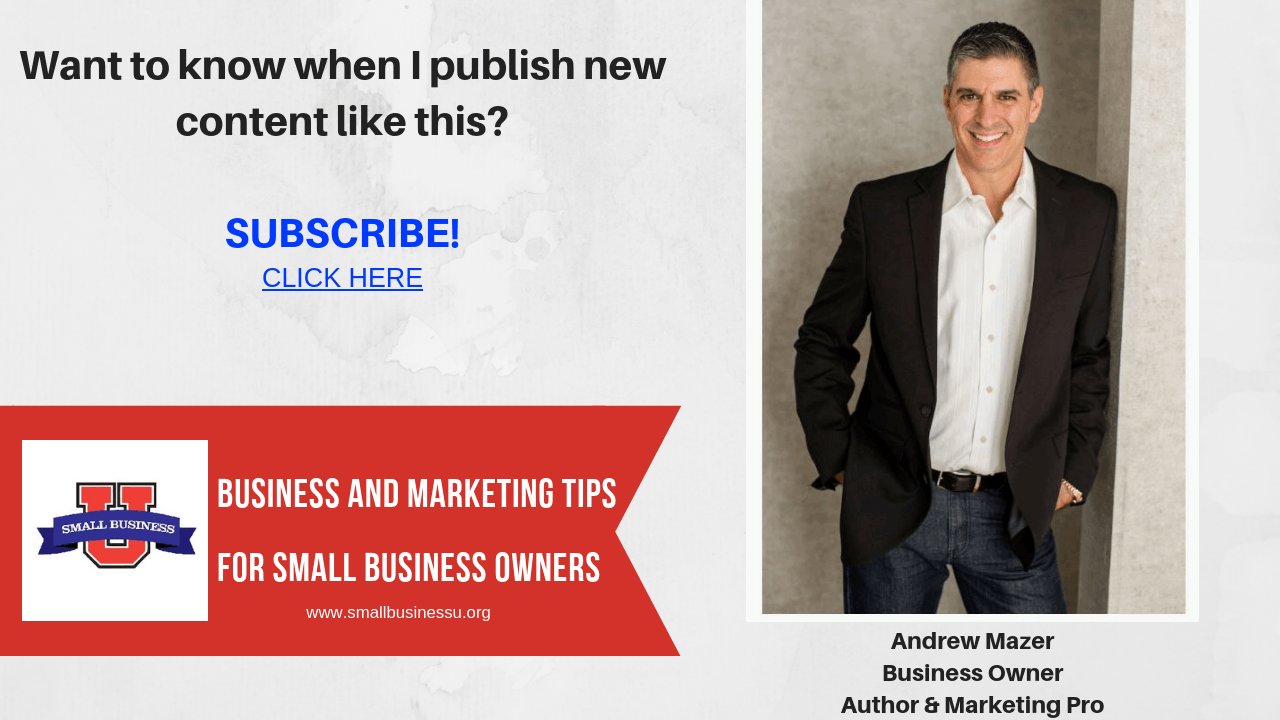 If they fill out the card, it's because they've had a satisfactory experience. If this is the case, then they're a good candidate to leave a positive review.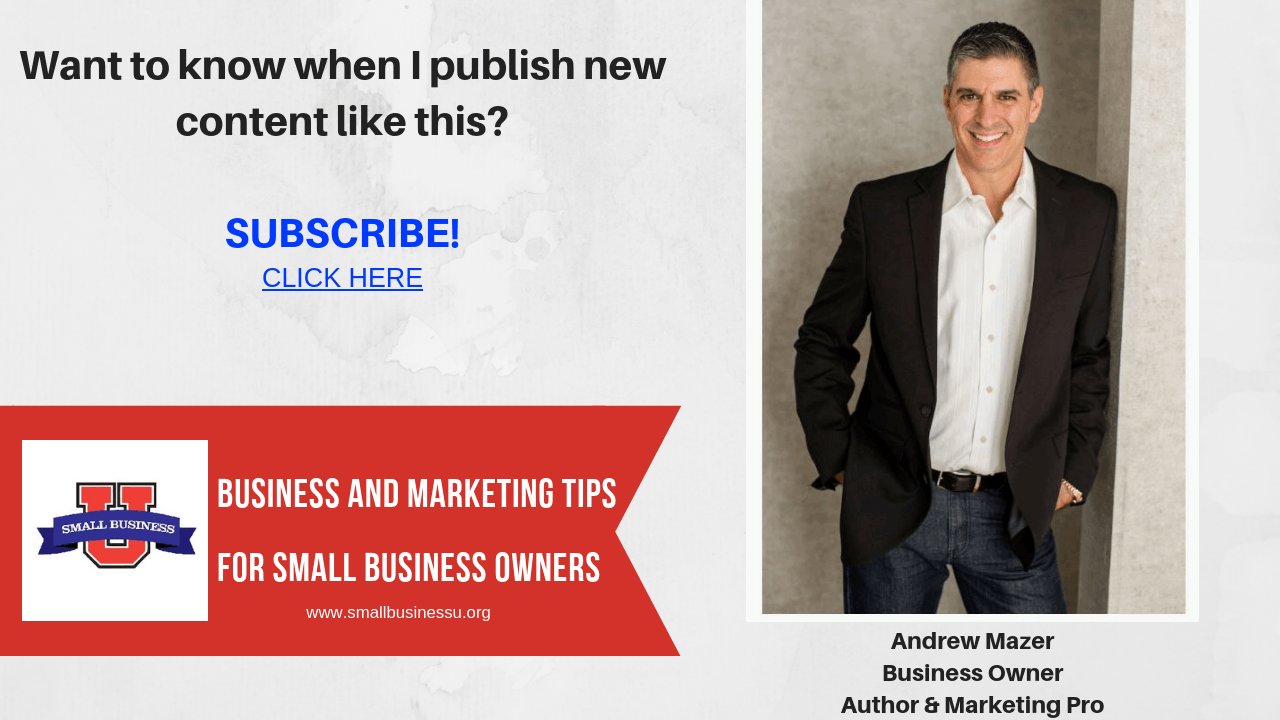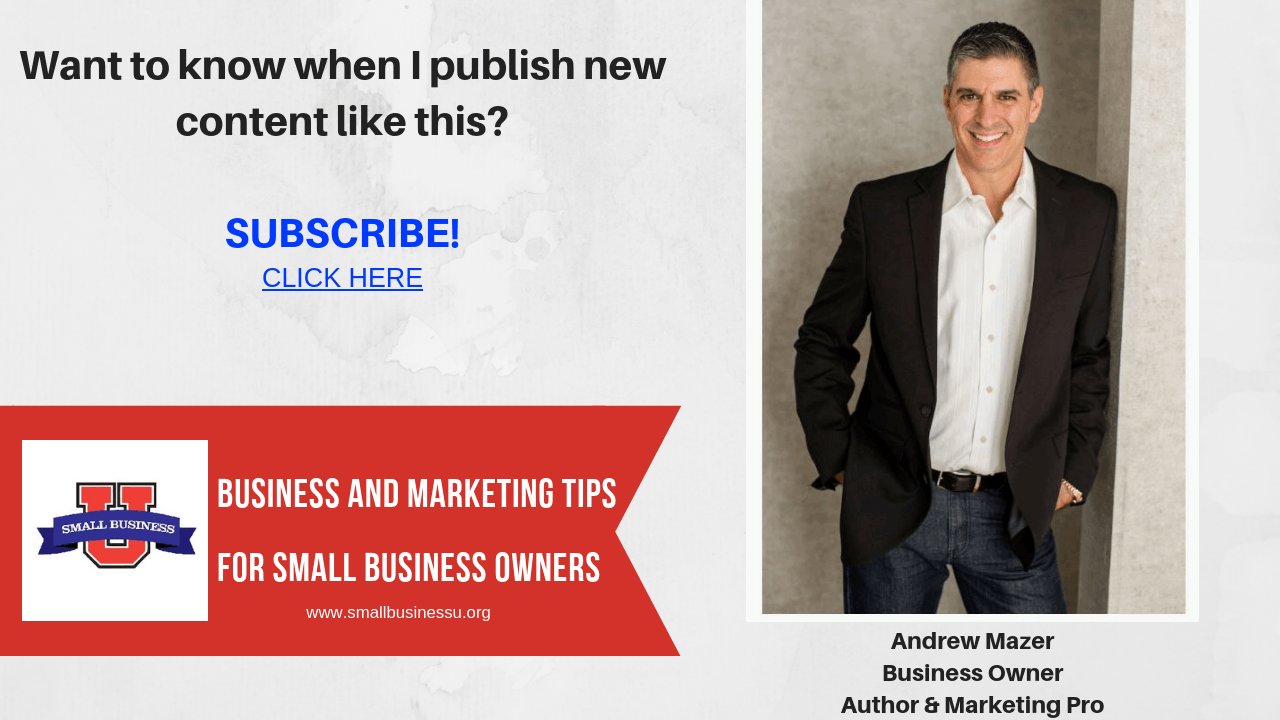 You'll need to get an assistant (you can get someone for minimum wage or less) to send out an email the same day (or the next day-sooner is better) and send something like this in an email:
Dear Mr. Smith, thank you for signing up for our "Specials & Coupons" Newsletter. There's a coupon waiting for you at the bottom of this message! We're looking forward to serving you again soon. Mr. Smith, as a family-owned restaurant, it's especially important to have a good reputation on the internet.
Every 5-Star review we get on Google, Yelp, Trip Advisor, and Facebook can meaningfully help potential customers find out about our restaurant. If you would spare 5 minutes to leave us a positive review on any of these websites, it would be a huge favor to us. We've made it very easy.
Just click on any (or all) of the links below to leave a review. If there's any reason you think we don't deserve a positive review, please reply to this email and let us know so we can address the situation. -Respectfully, Joe & Josephine Owner


Get the link to your profile on each one of these popular "review" sites and link directly to them right from your email. (I also advise you to create a Review Us page on your website.)
How to Eliminate Negative Reviews
Eliminating negative reviews from the sites listed here ranges from difficult to impossible. The best remedy for bad reviews is 10 times more great reviews. More great reviews will raise your average review rating. They will also bury negative reviews.
Equally important is, lots of great reviews will generally push you up in the search results so people will find your restaurant online even if they don't already know you exist.
Benefits of Building a List of Customers
While you're in the process of improving and building an incredible online reputation, you're also building a permission-based contact list. You have fans, and you have friends. These folks have freely given you their contact information in return for a promise. The promise that you will keep in touch to let them know about your specials and coupons! Imagine…a giant list of people who have raised their hand and said, "Yes. Send me your advertising!"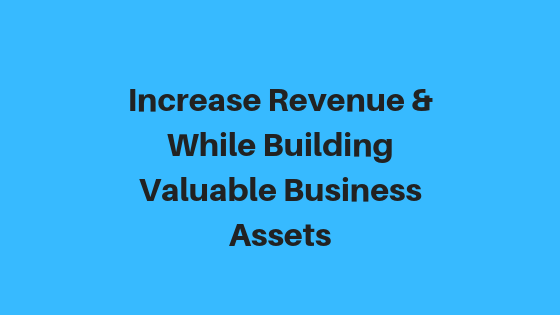 Keeping in touch with your customers is good business. This is especially true when they have requested it. This article will explain why building a customer contact list and keeping in touch is so important and so valuable to your business now, and in the future.
Build Your Business with Permission-Based Marketing
Permission-based marketing is when people have given you permission to send them your offers. If people have had a good experience in your restaurant, they'll often give you permission to keep in touch, especially if you have a special offer for them. Keeping in touch is easy and cheap with email marketing automation. It's also really valuable.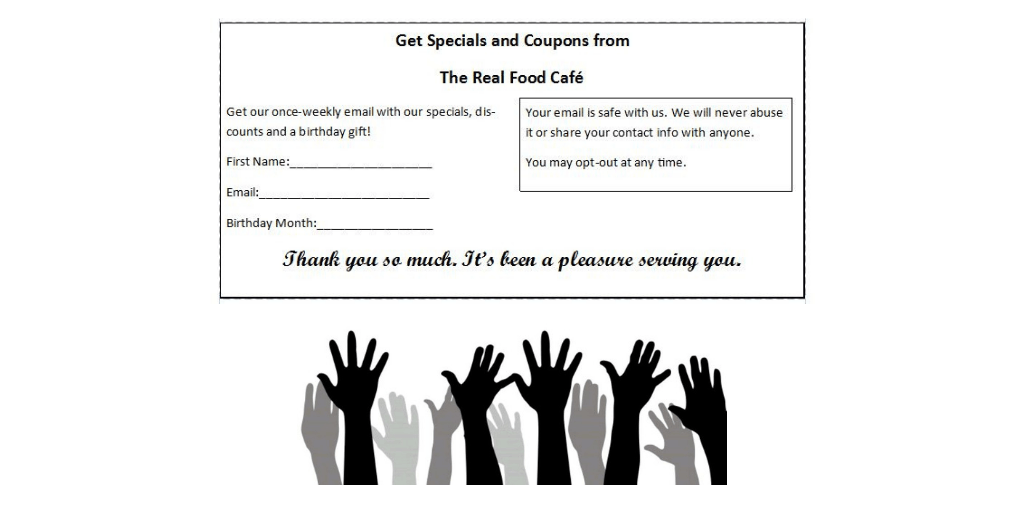 Keeping in Touch With Customers-Why it's So Important
It's not your customer's job to remember you, it's YOUR job to remind them you exist. When people give you their email contact information, they're ASKING you to REMIND them. This is a gift.
You want to be remembered when the question arises: "Where do you want to go out to eat (or order take-out)?" Among ALL the choices there are (and new ones popping up constantly), it's a lot easier to be remembered when YOUR restaurant shows up in their email inbox once a week.
Even when the customers on your list don't open your email, they will usually SEE your name and subject line which reminds them of you.
Why do customer stop coming to a place? It's SO important to keep in touch!
According to Dan Kennedy's research (a well known marketing guru), we lose customers for the following reasons:
1% die
3% move
14% are influenced by a friend's or relative's advice and switch to their brand
9%leave because of a better price or product
14% switch due to product or service dissatisfaction
68% leave because they felt the sales person and company were indifferent to their needs. They feel taken for granted.
Of course, there's nothing you can do about those who die or about those who move out of the area. But if you have permission to keep in touch with people, you can continue to keep in touch with a friendly message and an offer. Done with class, this will help you retain more customers, even win some back.
Email Marketing Automation
When someone fills out a signup form like the one pictured above, the information will need to be manually entered into an email database. This is about the only part that's not automatic, but it's not difficult.
A page on your website should be setup with a similar form or coupons. These can be setup to capture your customers' contact information and automatically add them to your email database.
Then what?
Email marketing technology allows us to setup emails in advance. Your email messages can be planned ahead to be sent on a schedule of your choosing-once per week, every other week, or once each month.
"But I don't want to burden customers with emails." 
NONSENSE! Remember, this is a permission-based list. They have given you permission-they have asked you to send them your stuff. You're practically under obligation! Besides, everyone on your list can opt-out which automatically removes them from the list.
When someone fills out a sign-up form Like the one above) after they've eaten your food, they're telling you, "Yes. I'm satisfied with your food and my experience. I'll be back, especially if you keep in touch with your specials, coupons, and news."
Think about the possible lifetime value of this customer. Do the math: if you can get just 50 customers (with a party of 4) to come back in just 3 more times per year by keeping in touch, how much more revenue will you generate?

Advertise to Build Your List
When you advertise with Groupon or in print (coupon mailers or local magazines), people will visit your website to take a closer look. If you have a page on your website called Specials and Coupons, people will opt-in to your contact list. Now, every time you advertise, you'll not only get a bump in sales, you'll also be building your list.
Building an Asset Which Makes Your Business More Valuable
When you send out emails, you'll see a bump in revenue. You'll be on a mission to grow your list bigger and faster. Not only will you generate more revenue, you'll also be creating a new asset: YOUR LIST. Your huge list of customers (fans), is property-property which makes your business more valuable to you NOW and makes your business more valuable and attractive to a potential buyer.
ADVERTISING GETS PEOPLE TO MY WEBSITE > PEOPLE ON MY WEBSITE GETS PEOPLE TO SIGN UP FOR MY EMAIL > PEOPLE IN MY RESTAURANT GETS PEOPLE TO SIGN UP FOR MY EMAIL > SENDING EMAIL KEEPS PEOPLE COMING BACK MORE OFTEN > PEOPLE COMING BACK MORE OFTEN GENERATES MORE REVENUE AND HIGHER LIFETIME CUSTOMER VALUE > A BIG CUSTOMER CONTACT LIST INCREASES THE VALUE OF MY BUSINESS NOW AND IN THE FUTURE.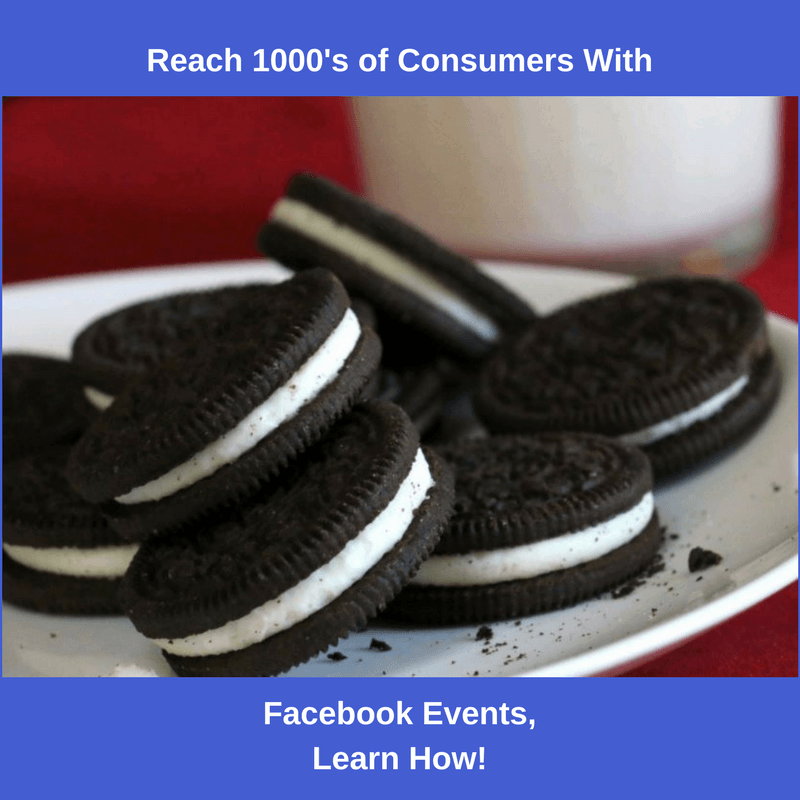 In this article, you're going to learn how get your business in front of 1000's of local and potential customers FREE with Facebook Events.
The 2 examples are restaurant-related but Facebook Events can be used in any type of local business. You just need a theme ans a little imagination.
You don't have to put on a party, a parade, or hang banners or posters in order to have an "event."
If you like this post, Subscribe.
Your Event Can Be Anything You Want It To Be
An event can be a one-day affair or it can last all month long! Your event can revolve around a single item or a theme.  It just takes a little imagination and a topic. The best way I can explain is with a couple of examples. Let's pull an idea off of our March Marketing Ideas Calendar:
March 6th is National Oreo Cook Day. Take advantage of the popularity of this American favorite and create an Oreo Cookie Day Event!
If you're in the restaurant business, you can promote Oreo Cookie milkshakes, Oreo cheesecakes, Oreo cupcakes, Oreo ice cream cake. Do you think there are some people around town who would be intrigued by the idea of an Oreo-inspired dessert selection? Of course, especially if it were a limited-time event.
But wait, National Oreo Cookie Day is just a 1-day holiday and maybe it's not worth the trouble or risk of preparing all these Oreo-related desserts. No problem! Make your event last all week! Who's stopping you? Here's all you do: Announce how your restaurant is celebrating National Oreo Cookie Day by featuring Oreo Cookie-related treats all week (or all month, of you want) long!
Subscribe to The One Good Idea Newsletter to get our Monthly Marketing Ideas Calendar delivered every month.
Here's another idea: The month of March is Caffeine Awareness Month. Create an event on topic of coffee.
Your coffee vendor will be happy to provide free samples and personnel to entertain your customers with taste tests. You could market this event every day of the month OR just on weekends or just on Saturdays…whatever you want! Facebook lets YOU make the rules and they'll keep marketing your event for as long as it lasts.
Use events to capture customers' contact information so you can add them directly to your marketing list for future promotions/invitations.
You can even sell tickets to events by linking to a site like Eventbrite or a page on your own site which can sell tickets can collect money.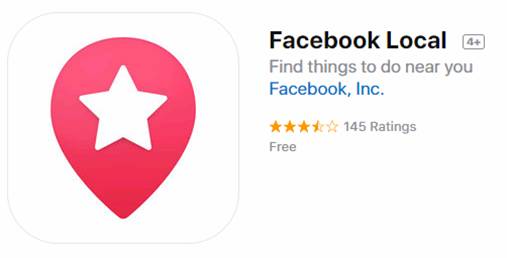 Facebook Markets Your Events For You
Facebook has created a smart phone app which millions of people have already downloaded. This app informs people of events going on nearby. People who don't have the app still have the ability to see events in their news feed.

If you like this post, Subscribe.
Fewer and fewer people actually see your Facebook fan page posts due to recent changes on Facebook's move to sponsored (paid) posts. However, events will appear in your Facebook fans' Notifications. When someone clicks on an event notification, here's an example of what they might see: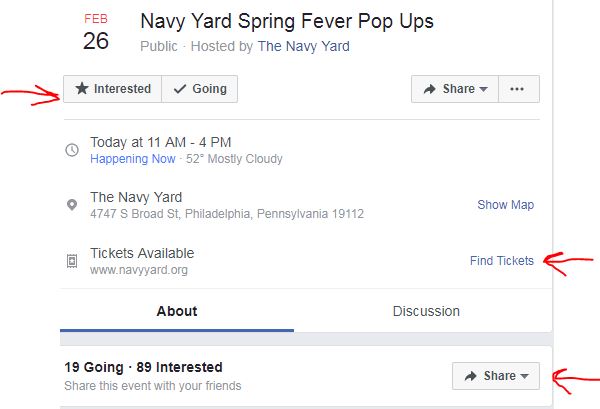 When someone clicks on Interested or Going, many of their Facebook friends will see this in their Notifications. Some people will want to share this information because, let's face it, we want to share good times with our friends. Another added bonus is the ability to sell tickets to an event and the Find Tickets button allows you to bring ticket buyers to your website or to another destination, such as Eventbrite (another place to market your event whether you're selling tickets or not).

If you like this post, Subscribe.
So when a Facebook Friend clicks Going to an event, this is what appears in her friends' Notifications. This acts as social proof and starts the whole cycle again of possibly reaching more and more people who may otherwise never have known your business exists, so maybe they'll end up as customers.
Events for a Cause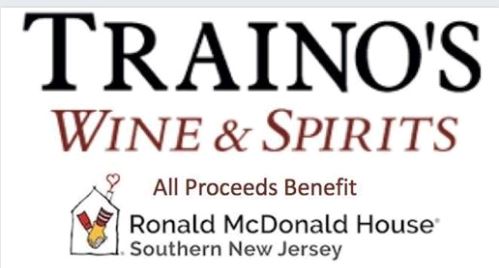 Supporting a cause will popularize and endear you and your business to a section of the population who feels affinity toward the cause. This locally-owned liquor store is running an event featuring food, wine and spirits and is donating proceeds to The Ronald McDonald House. I feel fairly certain the liquor and wine vendors will be supporting the store by sponsoring some food, drink, personnel, and maybe even some money for the event, all the while, driving customers to the store who will be obliged to support the cause by making a purchase.
Never run out of ideas for your events, promotions, social media posts, or email marketing ideas, Subscribe to The One Good Idea Newsletter to get our Monthly Marketing Ideas Calendar delivered every month.
Need some help with ideas on how you can leverage Event Marketing on Facebook? All you need to do is ask, CLICK HERE.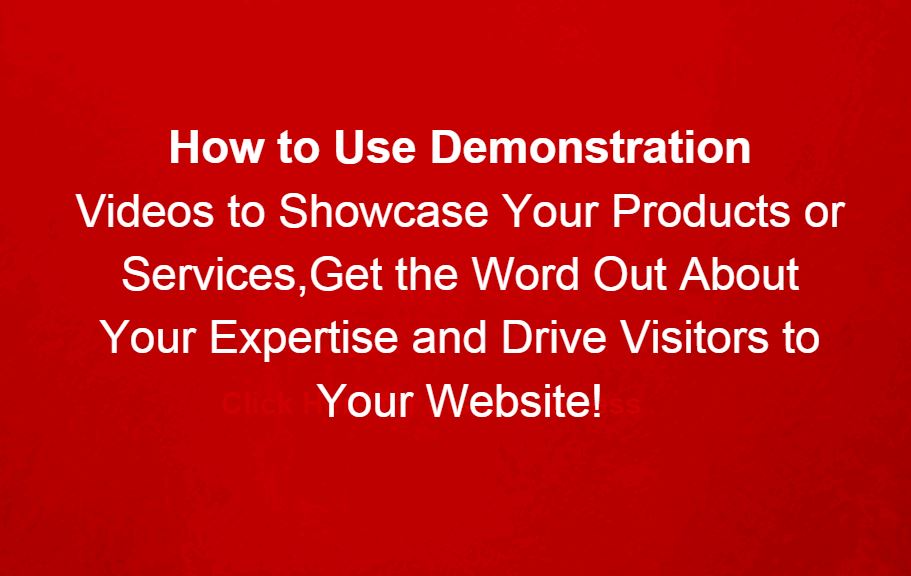 A productive and powerful online presence is much more than just a website and some social media posts. As I was creating some content for my wholesale website I decided this would be an ideal demonstration of incorporating several online marketing processes, all wrapped around the showcasing of a single item. This is how to leverage an "online presence" which includes my website but extends way beyond it. (See video below)
In this process I'm combining video with an entry on my wholesale website's shopping cart, embedding the video onto the website and sharing the video across multiple channels online. All this with just a little over an hour invested. The video is shot on my iPhone which anyone can do. No special equipment is necessary. No real technical skills are required. Of course you need to know how to get into the back end of your website and learn a couple of processes and procedures which are easily learned and repeated anytime you want. The results are demonstrated.
In this video you will see how I've been using video for many years which to date have resulted in more than half a million video views which have been instrumental in helping me sell hundreds of thousands of dollars worth of products.
How to Market Your Business, Products and Services Using Video
Demonstration videos like this can be used for showcasing any kind of product or service. It doesn't matter if you are selling cheeseburgers or computer software, water purification systems or wood refinishing services, garage doors or garbage bags.
Video has a way of being seen by a specific audience which happens to be interested in the content of the video. This makes it highly targeted to a current or future prospect for your product or services.
You can poke around and find lots of my videos online. There is no fancy editing or production quality. There doesn't need to be. In fact, my videos have a "reality factor" which transmits sincerity and evokes trust.

In my book The Business Owners Guide to Marketing Online, I talk about marketing a cheeseburger. If I were selling cheeseburgers I would make a video of the entire process of making some specialty and maybe a little crazy cheeseburger. It would be a beautiful and gloriously sloppy, greasy and otherwise mouthwateringly irresistible piece of work.
Sure, someone could take notes and duplicate the process at home to make their own, but there are people who would say, "Oh, I gotta try that." Or they would say, "Hey, I like this guy. We gotta try that place!" It wouldn't be a commercial for cheeseburgers at my restaurant it would be a video about a wild and wacky cheeseburger. I would post it on YouTube. I would post it on my website. I would share it on as many social media platforms as I could find and I would send out an email directing people to check out this glorious cheeseburger video. I would ask those people who are already on my email list and Facebook fans and friends to share it. This, my friends is called marketing a cheese burger joint. But maybe my place isn't a cheese burger joint. Maybe my place is a diner and I sell all kinds of food. Then I would move on to another topic like some kind of interesting omelet. I would move on to a handful of dinner entrees. Then, salads and desserts.
How do you get more money for products than your competitors? By differentiating what you sell from what they can get in any other place. Could you sell a $20 salad? Why not? Just add lobster meat or filet mignon. How do you launch a unique dish, product or service? Many of us want to but we don't even try because we don't know how to get the word out about this new idea. Well, you're learning how right here.
Marketing with video and on your website and on social media and by email is a fraction of the cost of traditional print media and you can get the word out fast if you have the understanding and control of your online marketing. You can test things, try things, and have fun with it. And it works.
Is it time for you to take control of your online marketing? Is it time for you to take control of your website so you can implement ideas the moment they enter your mind?